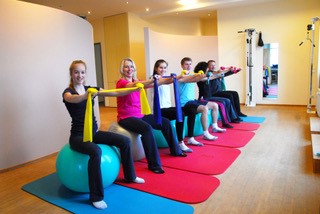 Genius Physiotraining
40 min. equipment and free exercises, also for companies, min. 4 participants
Follow-Up Short Training
Directly after your treatment we offer you an individual short training on our equipment.
KGG 1:3 support
(+ Recipe, Checkout + Private)
Equipment-supported physiotherapy
Rübibebo
55 min. training for pelvic floor regression
Please ask for the current course times.
10er ticket € 150,- (€ 15,- per hour)
Trainings
The group training (4-5 people) we try to adapt to your individual needs.
to coordinate your needs. Please contact us for the individual group times.
Time for me
Each of the following treatments takes place in a relaxed atmosphere. You can leave everyday life behind you in a beautiful ambience...e.g. a massage of the reflex zones stimulates metabolic processes in the entire body.